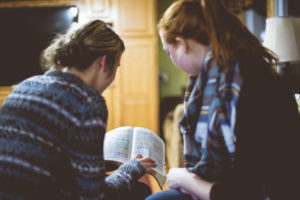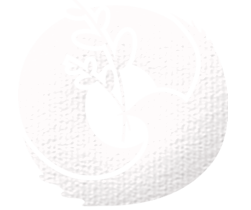 Current Bible Study~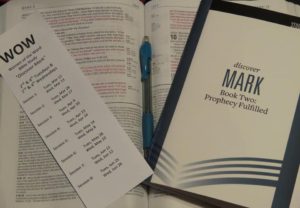 WOW Bible Study
~ "Discover Jesus in the Gospel of Mark", Part 2
You choose which day works best for you AM or PM!
* Child care available as needed *
* $8.00 book donation *
AM~ Every 2nd & 4th Wednesday Morning from 9:00 – 11:00 am. Starting March 13th
PM ~ Every 2nd & 4th Tuesday Night from 6:30 – 8:30 pm. Starting March 12th
Contact Linda Foster to sign up at 219-987-7979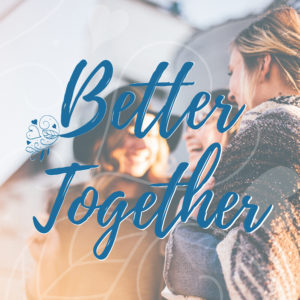 Better Together
~ Theme verse for the year; "For where two or three gather together as my followers, I am there among them." Matthew 18:20
Mothers doing life together and encouraging one another by showing God's love intentionally. ** More Information: Wendy Frump 219-661-0265
Schedule: 1st & 3rd Tuesday at 6:30 pm (childcare provided as needed)
Jan 15, Feb 5 and 19, March 5 and 19, April 2 and 16…. Bookmark this page for more upcoming dates.
Fun Events
~ 4th Thursday of every month from 6:30 pm – 8:30 pm Learn a new food prep skill or craft, help in a service project, or enjoy an evening of self-care, in a place of caring friendship.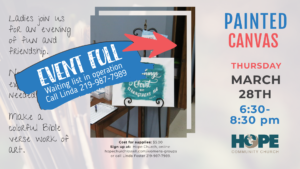 This event is full. A waiting list is in operation. Contact Linda at 219-987-7989.
March 28th, 6:30 – 8:30 pm ~ Painted Canvas
Cost $5.00 (for supplies)
No painting skills needed, make a colorful Bible verse work of art.
* Check back for "Sign up"
>> April 25th, 6:30 – 8:30 pm ~ Self-Defense
>> May 23rd, 6:30 – 8:30 pm Gardening Workshop
Hosted by Women's Ministry Team of Hope Community Church of Lowell.
"For where two or three gather in my name, there I am with them." -Matthew 18:20