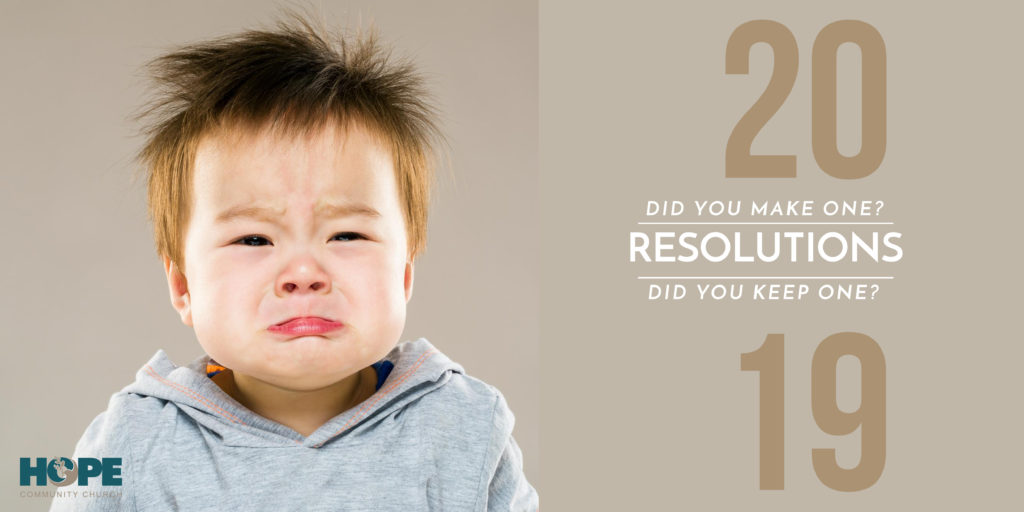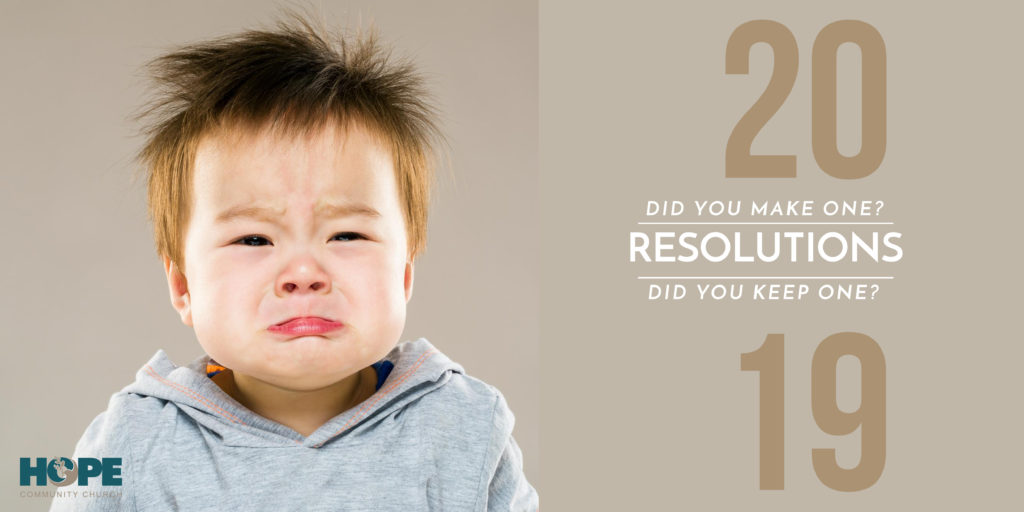 Well, we are three weeks into the new year and I guess it's time to talk about them…. New Year's resolutions. Did you make one? I'm guessing if you did, it probably looks something like one of these. Here are the most common New Year's resolutions people make.
1. Diet or eat healthier (71 percent)
2. Exercise more (65 percent)
3. Lose weight (54 percent)
4. Save more and spend less (32 percent)
5. Learn a new skill or hobby (26 percent)
6. Quit smoking (21 percent)
7. Read more (17 percent)
8. Find another job (16 percent)
9. Drink less alcohol (15 percent)
Is your resolution on that list? More importantly, are you keeping it? Believe it or not, most New Year's resolutions are done by January 12. That's right, January 12! Some have even dubbed January 12 "Quitters Day"! Sadly, statistics show that 80% of resolutions never make it to February and less than 10% make it the whole year. It doesn't sound like we are very good at keeping resolutions. And that's too bad because all of those resolutions on the list are good things. So why do we have such trouble keeping them?
I think one reason is that they all are self-serving. I look at that list and take note of the fact that it is all about one's self. Don't get me wrong, there is nothing wrong with taking care of yourself. In fact we are called to be good stewards of the body that God has given us. In Romans 12, Paul tells us to "…offer your bodies as a living sacrifice, holy and pleasing to God. This is your true and proper worship." But I have to wonder about the motivation behind these resolutions. When we say we want to lose weight or exercise, are we thinking in terms of that being an act of worship or do we just want to look better for others? I try to exercise and eat right (notice I said "try") and I would like to think that my motivations are pure… but that would be dishonest. Unfortunately, we are all flawed humans that have imperfect motives. It would be nice to live our lives with the singular goal of honoring and pleasing God but that would be impossible. Being mindful of our potential for pride and arrogance is a good start. We need constant reminders that it's not about us and that our main purpose on this earth is to bring honor and glory to our Creator. 1 Corinthians 10:31 reminds us that no matter what we do, we are to "do it all to the glory of God."
I think the other reason we fail is that we try do all of these things in our own strength. We long to be better and to do better but we lack the discipline and capacity to do it on our own. Only the Holy Spirit can supply the power needed to change and be more of the person God wants us to be. God pours out His Holy Spirit on all who will receive it. Philippians 2:13 tells us "for it is God who works in you to will and to act in order to fulfill his good purpose." We can't do any of this on our own. We need help and that help comes from God's Holy Spirit.
I recently came across this quote from Jonathan Edwards, the great Protestant theologian. He said of resolutions, "Being sensible that I am unable to do anything without God's help, I do humbly entreat Him by His grace to enable me to keep these resolutions, so far as they are agreeable to His will, for Christ's sake." What a great way to frame our New Year's resolutions. We have to; 1) recognize that we are powerless to do any of this on our own. We need God's help through the power of the Holy Spirit. By His grace, He will supply the power we need through the Holy Spirit. We also need to; 2) keep our resolutions in line with God's will. Nothing happens outside of God's will. 1 John 5 tells us that if we ask "according to God's will… we know that we have what we have asked of Him." Lastly, we need to; 3) do all for Christ's sake. We are created to bring glory to God and our resolutions should reflect that.
So, if you've made a resolution this year and made it all the way to January 22, you are in a relatively elite group! Nice job! But let's all remember why we make these resolutions and keep them all for the glory of God. Have a great 2019.
**Andrew Wahlstrom is a speaker, a member of the Hope Church Steering Team, regular contributor on Hope Church's blog, active in getting our sound, projection, lighting systems and also serving on the Worship Team here at Hope Community Church.
---