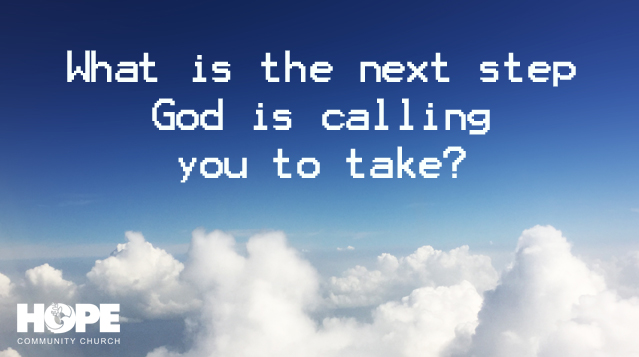 Posted on Aug 26, 2018 in Uncategorized | Tags: Andrew Wahlstrom, Sunday's Messages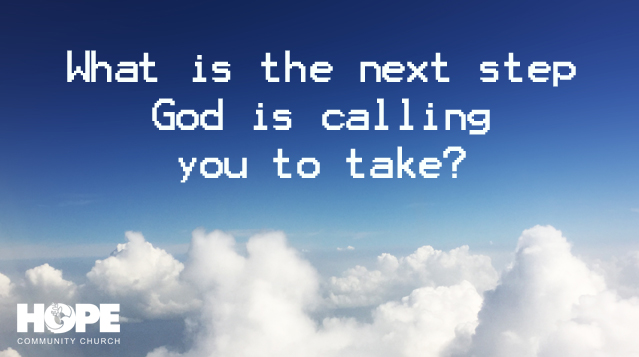 A number of years ago, I flew on several occasions with a co-worker in his private plane. He had a beautiful twin engine Cessna with a pressurized cabin. It was fun because I got to sit in the seat right next to him as he piloted the plane. There was one flight in particular that stands out in my memory. We were headed for Detroit and he filed a flight plan with the FAA since we were going to be flying instrument Flight Rules (IFR for you aviation buffs). Despite the fact that it was clear where we were flying out of, our destination was 'socked in' with a very low cloud ceiling and high cloud deck. So we flew out of Kankakee at dusk headed for Detroit. We were due to arrive at night, in the dark which actually made the trip all the more beautiful. Flying above the cloud deck was spectacular with the dusk waning behind us and the stars in front of us. It wasn't long before I got a little worried. I knew we had to land soon but I couldn't see the airport. What I didn't realize at the time was the fact that there is a beacon at the airport that the planes' instruments lock on to. The pilot was given step by step instructions on where to turn and how low to fly in order to reach our destination. He couldn't see anything but followed the instructions on the instruments. Eventually, we emerged out of the clouds with the runway in sight.
Have any of you ever experienced that either in a small plane or on a commercial flight? Have you ever been on a flight in bad weather or heavy clouds wondering, does the pilot have any idea where he's at? Ever say a prayer as the plane is coming in for a landing? At this point, you're committed. You've surrendered control to the pilot and the pilot has surrendered control to the instruments. You've put all your trust in him and the instruments to take you to your destination.
Friends, isn't this a great picture of what it means to live the Christian life? Rarely does God allow us to see our destination, or at least what we perceive our destination to be. Too often we get in our minds what life should look like for us, only to find out that God has something completely different in mind. He doesn't show us the end result, but what He does do is give us just enough information to take the next step.
In Paul's letter to the Romans, he explains what Christ's death and resurrection means for those with faith in Christ, what it means for them. He tells them what kind of life they now have and what kind of life they now can live and all of that applies to us today as well. 4 So, my brothers and sisters, you also died to the law through the body of Christ, that you might belong to another, to him who was raised from the dead, in order that we might bear fruit for God. 5 For when we were in the realm of the flesh, the sinful passions aroused by the law were at work in us, so that we bore fruit for death. 6 But now, by dying to what once bound us, we have been released from the law so that we serve in the new way of the Spirit, and not in the old way of the written code." Romans 7:4-6 (NIV)
One of the most important things we see in this passage is, when we give our lives to Christ, our life is then not our own. In verse 4 Paul says, "…that you might belong to another…" When we acknowledge Christ as our Savior, our lives are no longer our own. Christ becomes the beacon we are linked to and we surrender our will to His. Just like the pilot surrenders his will to the instruments, we are to surrender our will to the Holy Spirit. The best example is of this is Christ in the Garden of Gethsemane. He prayed, "…Father, all things are possible for you. Remove this cup from me. Yet not what I will, but what you will." He surrendered His will to the Father.
All of this starts with the resurrection of Jesus Christ. Our focus needs to be on Christ and the resurrection and as we focus on Christ as our beacon and allow the Holy Spirit to guide our lives, there are three things we can expect as a result and we see them in the passage above.
The first thing we can expect is Resurrection Peace. Paul tells us that we have "…died to the law through the body of Christ…" So, through His body, Christ took our law breaking and He stood condemned in our place, was crucified and on the third day rose victorious over the grave. And we participate in that. We participate in the death, burial and resurrection. Galatians 2:20 says "I have been crucified with Christ. It is no longer I who live, but Christ who lives in me. And the life I now live in the flesh I live by faith in the Son of God, who loved me and gave himself for me." Because Christ is alive and we belong to him and not to the law's claims on us, we now can have peace!
We are at peace with God. Romans 5:1 reminds us, "Therefore, since we have been justified by faith, we have peace with God through our Lord Jesus Christ." We can be at peace with our past. Romans 8:1 tells us "There is therefore now no condemnation for those who are in Christ Jesus." And, we can live at peace with ourselves and can move on. We can be at peace seeking God's will. We can be at peace taking those small steps in the direction that God leads, knowing that God is working out His perfect plan.
The second thing we can expect when we set Christ as our beacon is Resurrection Purpose. The resurrection of Christ gives us a purpose for living and not just hope for dying. Certainly we have the assurance that we are saved by the work of the cross and nothing else, right? It is only through the shed blood of Jesus Christ that we have a hope. It is by the death and resurrection of Christ that we are saved. But I know that people still ask; What is the meaning of life? Why am I here? Paul tells us how the resurrection injects meaning and purpose into our. Verse 4 says, "…in order that we may bear fruit for God." That is what we were created for, to bear fruit for God! We no longer live for ourselves but for Christ who died for us. Paul makes it clear in 2 Corinthians 5:14-15 "For Christ's love compels us, because we are convinced that one died for all, and therefore all died. 15 And he died for all, that those who live should no longer live for themselves but for him who died for them and was raised again."
So it's the love of Christ that controls us and compels us to bear fruit for Him but we don't always have a clear picture of what that looks like. I recall someone once saying, "I wish I had a crystal ball. It would make things so much easier." And I've always felt like that. "Lord, show me a clear picture of the future and I can make decisions based on that. But God doesn't always work that way. He gives us just enough information to take that next step, and we step out in faith, knowing that God is in control and working out His sovereign plan.
The third thing we can expect when we focus on Christ as our beacon is Resurrection Power. So we have a purpose and that purpose is to bear fruit. However, e cannot serve God (bear fruit) by our own strength. We are powerless. But Paul tells us that we have a new kind of power. "…we serve in the new way of the Spirit and not in the old way of the written code." We now live by the power of Holy Spirit. It is the Holy Spirit that works in us to sanctify us, making us more and more like Christ and that power allows us to fulfill our purpose, to bear fruit for God. The power is in the risen Christ and the resurrection unleashes the power of the Holy Spirit. We now have the power to bear unbelievable fruit for God.
So what does all of this means for us today? Well friend, if you are alive and breathing today, God is not done with you yet. He still has a plan for your life. So the question is, what now, what's next?
What is the next step of faith God is calling you to take? If you have never given your life to Christ, Maybe that first small step is to find a church or talk to someone. Make no mistake, Christ loves us and pursues a relationship with us and He is pursuing you right now, today. I pray that you would respond to that call. And for those of us who do claim Christ as savior, maybe it's time we finally set Christ as our beacon, to focus on our dependence on Him and our duty to Him.
As a pilot is on approach he is focused on his instruments and those instruments are locked on to the airport beacon. He can't see the ground (final destination). He follows instructions and those instructions come one step at a time. Can you imagine what might happen if he disregarded those instructions? The pilot I flew with had done this many times but he said the first time was the hardest. After that it became easier and easier to trust his instruments. When we as Christians lock on to Christ as our beacon, we too are only going one step at a time. Rarely do we see the end result of what God is asking us to do. We need to take those steps of faith. The more we do it, the easier it will get and the more we will realize that God is good. His promises are true. He will never leave you nor forsake you. Has a plan for each one of our lives and it's a good plan, the best plan.
So here is my challenge: Lock on to Christ as your beacon, listen to the instruction from the Holy Spirit and take those steps of faith. I guarantee, if you do, you will receive the resurrection peace, your resurrection purpose and the resurrection power you need to bear fruit to the glory of God.
>>>> Andrew Wahlstrom is a speaker, a member of the Hope Church Steering Team, regular contributor on Hope Church's blog and is active in getting our sound, projection and lighting systems here at Hope Community Church.
---